Meet Realtor Karen Fletcher
Realtor Karen Fletcher has resided in Florida for some forty years, but more than three decades of that has been right here at home within Naples. Prior to her real estate career, Karen served as a real estate paralegal and senior title insurance closer. Her expertise in real estate law, contracts, title and insurance regulations combines with extensive insight of local neighborhoods and market real estate investment opportunities, ultimately imparting an unrivaled measure of competence for her customers. She can anticipate and mitigate problems before they even arise. Realtor Karen Fletcher has closed literally thousands of real estate transactions. For buyers, Karen is devoted to helping you find a home and neighborhood succinctly aligned with the demands of your lifestyle and budget. For sellers, Karen's marketing expertise, negotiation skills and vast network of resources helps assure the timely and convenient fulfillment of your goals, and all in a manner that satisfies YOUR expectations. She adheres to old-school philosophy in that the needs of the customer always come first. Constant communication, accountability and unceasing commitment to the best interests of her clients are all hallmarks of the professionalism imparted by Realtor Karen Fletcher.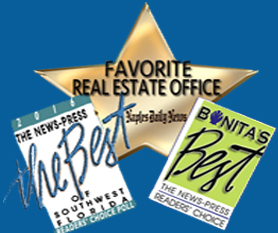 As an agent affiliated with Domain Realty, Karen is among the team in Southwest Florida to achieve recognition as "Best Real Estate Office" and "Favorite Real Estate Office" in Naples, Bonita and Southwest Florida in separate polls conducted with readers of Naples Daily News and the Fort Myers News-Press. Domain Realty is THE ONLY real estate office to achieve such recognition in Southwest Florida, and that distinction has occurred twice, in 2016 and 2017.
Connect with Realtor Karen Fletcher by phone, email or simply by submitting the contact form below: